Haven't had much time to update in a while. New semester, you know how it goes. I also have an internship at the Drawing Center, so expect more pretentious blog entries examining contemporary art exhibits in SoHo. Should be exciting!
I've been wanting to write something about fashion for a very long time, and it came to me sometime over New Year's, when I dressed as a punk rocker for my stereotype-themed party: fedoras. I bought one in Paris, a solid and signified black one, and some girls' immediate reactions were: "That hat is so hipster!" I disagree.
Let's examine several famous fedora-wearers. For one, Humphrey Bogart, of
Casablanca
fame.
For two, the main character of Godard's
Breathless
, inspired by Bogart.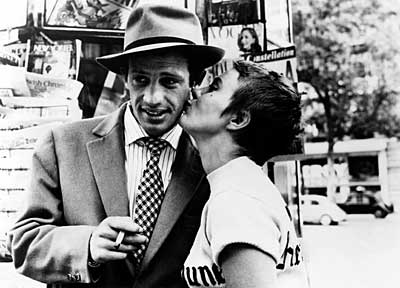 Thus we move from the 40s to the 60s and then the late 70s, when we see Paul Simonon of the Clash wearing a fedora.
And then we have present-day, when the fedora has become a staple of the edgy haute couture industry. For the sake of beauty, and proving that fedoras are indeed the essence of cool, I've made a compilation of my favorite fedora-wearing outfits from the Sartorialist, HelLooks, and various other places. Enjoy!
This one with the white skirt is my favorite.
I have a jacket just like that! 5 pounds from London's Primark, a steal if I ever saw one.
Girls in Paris actually habitually dress like this.
Unfortunately I don't look quite as cool...
...but I still really like hats.